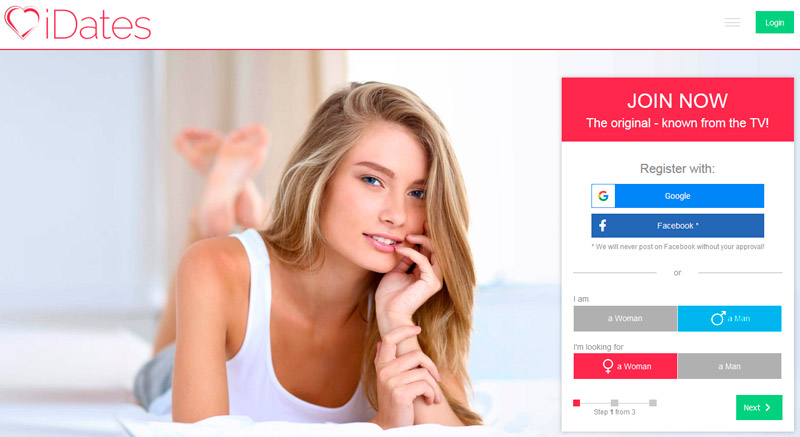 iDates.com
iDates is a dating app and website which is created by Boranu Online. This is one of the most interesting dating apps that can be both used by women and men, as it helps you to make serious relationships and casual encounters. Idates have the same functions as any other dating app have such as you can like you can chat, flirt, meet with other members who are near around you. In this idates review, we are going to show you how much user-friendly this dating app is. It gives a lot of flexibility to its users in terms of making friends or even real relationships.
One of the best things about this dating app is how it manages to connect you with individuals who are single nearby you or in your neighbourhood to either friendship, chat or flirt with before you get into either a serious or a causal relationship. Through this idates review, you will see this app gives you the perfect mobility and flexibility, especially for younger users.
The free registration process and profile creation
It takes literally one minute to create a profile on the idate dating app, and its registration process is quite simple and easy. There are three options available for signing up that are via Facebook, Google+, or personal e-mail, so it's totally your choice to opt any one of them in order to sign up for this app. If a person wants to sign up via e-mail, then he will be required to provide the basic information like date of birth, e-mail address, and gender. Moreover, in the case of a new user, he will also have to create a password and username. When a person signs up with Google+ or Facebook, his personal details are automatically imported from those sites onto the idates app.
Signing Up
To sign up, you will be asked to provide your username and password for the web, as well as to give a valid e-mail for the purpose of your verification. After that, you will state whether you are women or man, your age, followed by what gender you are interested in.
In case of alternative course, you can register yourself with your Google or Facebook account and your data will automatically copy from there to idates app.
1. Verify your account through email
Now you should go to the e-mail id that you have just provided for verification of your account, and you just have to open the link and click it that is sent by idates to you.
2. Build your profile up
The give further information about yourself after signing up is optional on your part. But you will see the benefits of filling more facts about yourself once you build up your profile. This includes hobbies, relationship status, body type, lifestyle choices, etc.
3. Upload Photographs
The most important thing to attract someone for dating or friendship is to upload your own pictures. So do drag the pictures of yourself from your mobile in order to upload them to your idates account.
4. Start your search
Now you are all set ready for dating. Just go back to the homepage of your idates account and choose the age range that in which you are interested in date in and also the location to start your dating with idates app.
Right after completing the registration process, you will be asked to fill out some necessary information in the profile. For this, your profile is distributed among three sections or parts (short profile description, About me, the interests and photo gallery). If you are not signed in by using Facebook, then these parts can't be filled.
Idates Pricing
The idates initial sign up is totally free, but you will have to pay later if you seriously get into the online dating. Like most of the other dating sites or apps, you are required to pay the price for communications. A unique feature of idates is that it allows you to read messages that you have had sent to any person for free and also let you see that you have received a text.
You will have to pay for chats with coins that you can purchase as an in-app purchase. The pricing is pretty affordable and straightforward, and you will also win free coins as you buy more coins. For example, 500 coins cost $15.09, but 220 coins for just $7.54.
IDates Mobile App
The iDates mobile app is more convenient to use, and you can stay signed by using it as an app. Some users don't prefer to download the app. But if you download it, you will get the features which you might get by using the website. This idates mobile app can be downloaded on both Android and iOS.
It's much easy to use, with a clean and clear interface that makes dating on the go functional and fun.
This App is available for both Android and iOS users.
Both the website and the mobile app are quite easy to use.
Idates will give you suggestions with chat for both website and app.
You will get live prompt notifications of people who liked and viewed your idates profile and wants to interact with you
iDates Opinion
iDates is a convenient dating app which is developed to work as a medium for both men and women to attract each other generally between the age range of ages 18 and 30 who are fond of friendship and dating new people. You can use this app to meet, flirt, and having into the same-gender sexual relationships.
Profile creation and registration is completely free, and you will promptly get to know whenever someone wishes to connect with you or liked your picture. You can also make in-app purchases with coins which you can buy. You will be able to get some free coins as you buy more and more coins. So if you are looking for a casual dating app, then idates is one you must check it out.