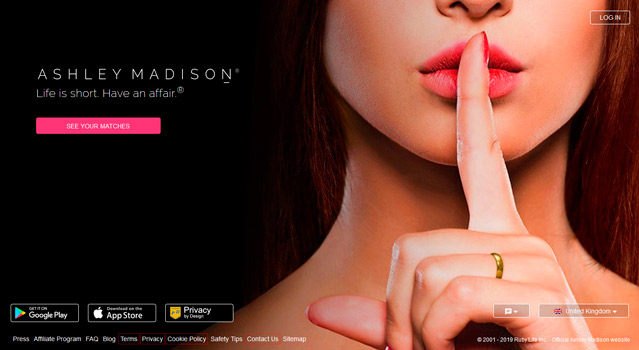 Adults from all over UK gather at the popular Ashley Madison dating app to find, know, meet and flirt with different people to get in touch for  romantic or more sensual encounters.
Thanks to Ashley Madison app's multiple features, users enjoy the advantage of discretion and are capable of controlling exactly what they want to reveal to people who try to meet them through this fully reliable online platform.
Ashley Madison
With its motto: "Life is short, have an adventure", this dating site can be experienced for free but that gives the users very limited communication possibilities. Those interested must pay 5 credits to take the first step and communicate with the persons who look most attractive in their profile photos.
Login and free registration
Although this page started in 2001 as dating site for married or engaged people looking for an affair, today it has become a meeting place for open-minded adults who believe in free love and no compromise sex.
The registering process is free very easy, in just a few steps you are ready to start meeting potential partners for your first date with millions of users from Spain and the world.
Enter Ashley Madison official website, type name and email. For security and privacy reasons, it is highly recommended to use this email only on this dating site.
Confirm the email address clicking on the link in the message that will automatically be sent there.
Login with chosen username and password.
Proceed to fill in the online form with your personal details to create a profile that will be visible to other members, so you can receive invitations from people with similar interests.
Upload a profile pic. It can be edited and filtered to show only what you want and protect your privacy.
Start searching for possible contacts.
Free Sign Up at Ashley Madison
The subscribed plan is shown in the user's profile in case you want to access other Premium services. Actions that can be performed with the free account subscription are the following: answer messages from members with a paid account, exchange winks and photographs and choose favorite people in the profile.
Prices
For greater comfort to all subscribers, Ashley Madison dating platform supports PayPal, American Express, MasterCard, Visa, Paysafecard or Skrill as payment methods.
If the contact is successful and the chat begins, those members won't have to pay again to talk to each other through video calls. On the other side, real-time chat also requires positive balance in the subscriber's account to be able to engage in dialogue with the chosen woman or man.
Fees are one credit per minute of chat. However, subscribers can take the cheaper option of using 50 credits for an hour.
There's a full-erase service at a $19 price. It should be noted that this procedure totally eliminates all, messages and chat history, along with the pictures. This is one of the options used mostly by cheaters.
The platform shows different credit plans, for the users to choose instead of the standard monthly subscription, with different exchange options.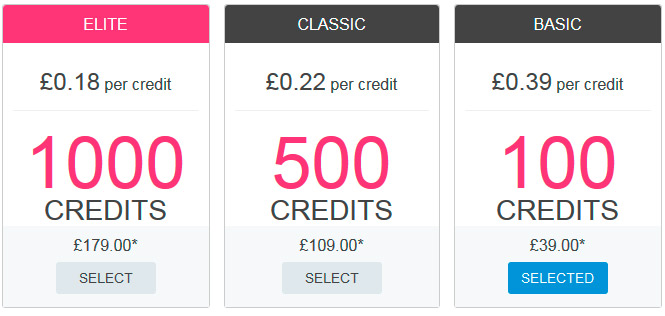 The Basic service is £39 for 100 credits. It is advisable to start with this plan just to learn the app basics and get to know it, for taking the first steps towards the first conquest.
On the other side, the most complete, called Elite, at £179 for 1000 credits and the Classic that grants 500 credits for £129. The Elite pack also includes 30 free days of Priority Man status (a £29.70 value) and 24 hours of free chat on your first day.
Besides, downloading the app to a smartphone has a unique charge. Billing is done using a different name to guarantee client's privacy.
Hack
In mid-2015 the famous cheaters' dating app was allegedly attacked by a group of hackers who identified themselves as Impact Team, and published 300 GB of data from approximately 32 million people around the world, who used to meet at Ashley Madison's website for dating.
This information included personal data, credit card numbers, profiles, private conversations, email addresses, all allegedly real.
Immediately, the company responded through an official statement that this act was considered as a computer crime against the subscribers' privacy and that they would avoid such leaks in the future. In turn, they also criticized the portrayal of "moral judge" demonstrated with this type of behavior.
After that scandal of massive data leaks, the company has paid more than $ 30 million in compensation and fines and has been audited by the Federal Trade Commission to check if its security algorithms meet and ensure the privacy requirements their clients need.
Nowadays, the team of executives and IT techs of Ashley Madison consistently analyze and invest a high percentage of their revenues in data security and prevention against this type of hackers, so that this type of events that endangers the privacy and reliability of those who trust their platform won't happen in the future. Lots of reviews in online media have been positive with the new website safety features.
App
This dating application is available for free download on Google Play and in the App Store. Although many people prefer to use the online version on their laptops to avoid being discovered in fraganti by their partners. The application is an adults-only software and requires 122.2 MB of memory.
Different tools are available in the app and on the website to communicate with anyone in the world, depending on the member's profile preferences. To avoid unpleasant surprises, it is vital to be very sure and specific when expressing what you are looking for.
Chat through messages. Communication can be simultaneous. Usually, newbies take time to learn the kind of suggestive speech that is frequently used in online dating.
Email. In case a member wants to contact privately another, 5 credits must be paid.
Reverse charge. A female member can send her first message for free and she will be billed only if the receiver answers.
Priority. This happens when a man sends an urgent text to a lady and receives a read confirmation from her.
Funny smileys and emoticons are free.
Spanish subscribers can select favorite members on his profiles.
Virtual gifts. Sending credits to friends, lovers or prospects of interest is possible, in order to keep in touch in case the others haven't enough.
Opinion
Despite the scandal that shook public opinion and Ashley Madison company's reputation, this platform and its app have become a dating place for most daring and open-minded lovers, who want to meet people other than their partners or who want to try a new erotic practice.
After having made this review, it can be concluded that this dating app is one of the pioneer sites for exchanging fantasies, open-minded unrestricted dialogue among members who feel free to try new experiences.
What subscribers are looking for the most is security and personal data protection, as well as the option to completely erase their history to avoid being discovered by spouses, as well as being billed on a name other than the owner to preserve their identities.
Finally, it is really important that people interested in getting a membership on one of these types of sites, first get to know about the terms and conditions and privacy policies before filling any registration form.