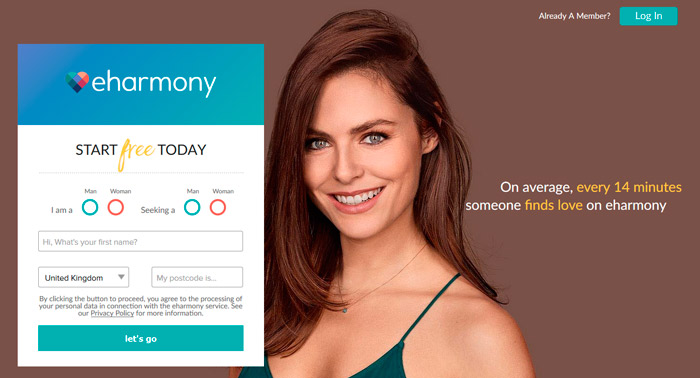 In every love relationship, besides physical attraction, mutual compatibility is one of the factors that determine how stable over time a couple will be and how strong the bond between them could become.
Curiously nowadays when dating someone online is so easy, it is very frequent to experience uncomfortable situations since people usually lie in their profiles and there are no filters that could minimize that. To avoid these situations, eHarmony has become a reliable platform thanks to its software that analyzes the chances of actual compatibility levels between members.
eHarmony matches
What sets this platform apart from other online dating services is its specificity level when searching for compatible characteristics at the time of choosing prospects more likely to conquer your heart.
If you have had unpleasant experiences in most of your first encounters with people you met online, it is time to trust in the reliability of eHarmony, that currently has more than forty million registered singles around the world, from all countries, cultures, religions and lifestyles.
This method has been designed by clinical psychologist Dr. Neil Clark Warren, who has treated married couples for over 35 years in the US, gaining such an experience that allowed him to find some factors in stable and lasting relationships, which he calls "The 29 Dimensions Model."
Thanks to his method and after almost 19 years through eHarmony, this online dating site is responsible for promoting 4% of consolidated marriages in the United States today with its predictive compatibility system.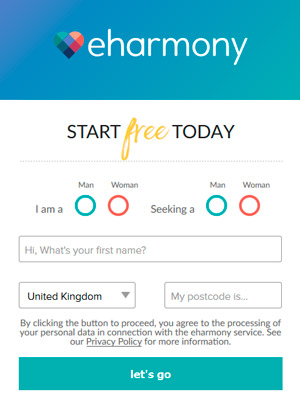 The selection software shows several potential partners that better fit your profile after completing an interpersonal relationship questionnaire, which is not an exam but a self-knowledge exercise that helps you know exactly what you are looking for or what type of relationship you want to start.
Answering the questionnaire will not take too much time, and it is really important to provide truthful information to increase the chances of finding people with higher compatibility with you. Feel confident and comfortable to answer those personal questions, do not to fear failing, it is only a test, and it will also be a fun introspective experience.
After submitting the answers, the Compatibility Matching System® based on the 29 Dimensions model analyzes your choices and creates a profile of your personality and behavior in order to pick the most compatible prospects for you. Then, recommended profiles are sent to you but before contacting them, you must choose your subscription plan to start your seduction strategy.
During the selection process, key filters as geographical location, preferences, religion, and others are considered. This will make easier for you to meet singles that meet your expectations and will make you forget about any awkward dates you might have had in the past.
eHarmony app
If you are a person who likes using mobile phone apps, eHarmony for Android can be downloaded for free from Google Play. You can also register from your Facebook account to start the journey to the heart of that special person more straightforward.
Amongst the several options you can have in the free version are: receiving notifications when prospects show interest in starting a conversation with you, writing pre-established questions, sending emojis, choosing favorite candidates and knowing when the reaction is positive, as well as answering the questionnaire and receiving options of compatible partners selected by eHarmony.
However, if you are interested in other special features, you must subscribe to a plan, which will allow you to look at all the photos of the person you are interested in, use the "What would happen if?" tool, whose answer may clear up any doubts, take casual conversations to a higher level and see which other members have marked you as a favorite.
The application is available for people over 17 years old, requires Android 5.0 or later and 56 MB of memory space.
The eHarmony app is also available for free in iTunes along with some other tools you need to buy for more specific services.
eHarmony price plans
Depending upon what you're looking for, this online dating platform offers different subscription plans to fit any lifestyle and budget. People in the UK will surely find one that fulfills their expectations.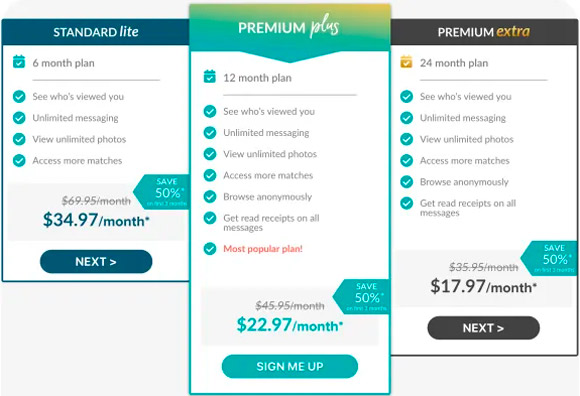 As you may already see, each plan gives the chance to extend the subscription period at a fee that turns to be noticeable cheaper in the long term. Moreover, every now and then eHarmony uses to give a 15% discount coupons, particularly to new subscribers.
And if all that wasn't enough eHarmony offers a 3-month warranty period, something that sets it apart from other online dating websites. If for any reason you haven't been successful in engaging with none of the prospects eHarmony suggested during the first three months, another 3-month subscription time will be granted for free.
Conclusions
After having done a more complete review of eHarmony online dating platform, it can be concluded that these site and app are the best for people interested in more formal and serious relationships. Those searching for lighter and more casual contacts, it could not be what they look for.
It's important to remark that after having completed the first questionnaire, it is likely to appear a message that no compatible people have been found, whether due to geographical location or member preferences.
This feature has been considered as a drawback by some users, who were unable to access the database to perform a search on their own.
Nevertheless, thanks to the accuracy of its 29 Dimensions matching model, the chances of getting a compatible match are much higher, which considerably reduces unpleasant surprises during the first dates.
Of course, it is highly recommended for all subscribers to establish a sincere and straightforward communication through messages and online chats before arranging a meeting with the chosen person. This will make a stronger bond and improve closeness between the members of a future couple.
eHarmony encourages all new members to establish a self-commitment of filling their profiles truthfully and sincerely if they are really interested in finding a lifetime partner.
This requires just five simple steps:
Complete the entire form.
Upload at least three photos.
Reply or send messages to at least 5 members.
Subscribe one of the plans.
Accept the terms and conditions.
After that, there will be a lot more chances of meeting a trustable partner.
Love relationships aren't easy in real or virtual life. However, this should not restrain you from finding a partner for your life. If you are a shy person or suffer some kind of anxiety, the eHarmony platform and app can become the allies you need to meet and engage in a dating, which in the long term can become a marriage.