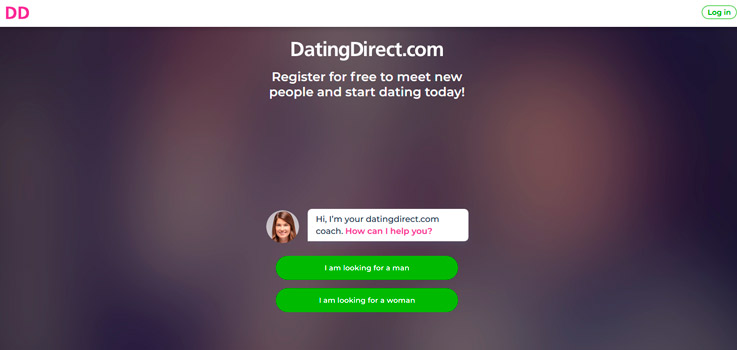 Dating Direct is an online service specially designed to offer a safe environment where singles of all ages can meet friends or dates, in a kind and intimate atmosphere. It is currently one of the most popular dating service in the United Kingdom.
It was built around a multiplatform system consisting of a web page and a mobile web version, accessible from the browser of any smartphone.
It offers two subscription plans: free and premium, with the latter the user can send unlimited messages in the mobile application and access to a more advanced search for couples.
Dating Direct.com
Dating Direct was created in the United Kingdom in 1999, as the first online dating service and marking an important milestone in times when the Internet was expanding globally and the idea of this type of dating was still seen with some distrust.
By 2003 it had more than 800.000 subscribers in the UK only, something that showed a high degree of trustworthiness
It was sometimes mistaken with the equally popular Match.com because they had in common the parent company, until 2012 when they merged, and since then they share the same database of more than 6 million subscribers.
Se diferencia notablemente de otros sitios gracias a su sistema multiplataforma, lo que facilita visualización del contenido del usuario y ofrece más fiabilidad.
It markedly differs from other sites thanks to its multiplatform system, which facilitates viewing of user content and gives higher reliability to its users.
Sexual orientation: straights, gays, lesbians
Allowed marital status: singles, divorced, widow.
Relationship possibilities: casual dating, friendship, stable and committed relationship, marriage.
Curiously, comparing it to other similar dating sites, Dating Direct stands out because most of its members are looking for stable, solid and committed relationships.
How it works
Two of the most remarkable features of the Dating Direct platform are its easy access and usability, thanks to its intuitive and interactive interface, which reduces the margin of error and confusion that usually occur in this kind of services.
Three simple steps to begin:
Registering and making a member profile
Profile is made up of a short bio and a picture gallery.
Bio is a short description with a natural and fresh self-promotion. It should be spontaneous and even with a touch of humor. Sports likes? Hobbies? Music preferences? Projects and dreams?
The profile is a space to express what you want to find, whether it is friendship, love or a simple casual date. One of the most common mistakes is not being able to clearly communicate the goals before performing a search.
Photo gallery is a place for uploading the member's best photographs. Basic information such as display name, age and location are shown by default.
Sign up a Free Account at Dating Direct
Browsing and Match
"Match" refers to the chances of matching a person. To achieve this, the system offers several ways to making contact with someone in the community.
The most popular is called "The Daily 6". It shows a daily selection of six profiles that could best match according to people's preferences and interests.
The member will be asked if he/she would want to meet this person with three choice answers: "yes," "no" and "maybe". If the answer is positive then the person will be informed and both will be able to get in touch in the chat window.
Another interesting feature is called "The Quiz"; it allows the user to ask a series of questions to potential candidates. The questions are designed to help knowing the person from a psychological approach and with a touch of humor to provoke some funny answers.
Safety
Currently topics about the security of these types of sites are the main concern of millions of subscribers who join annually.
That should not surprise anyone since after human relationships went online it was increasingly easier for hackers or cybercriminals to obtain private information illegally.
Fortunately this site stands out above the rest for using advanced encryption algorithms to protect subscribers' data.
The most common technique used by hackers is the creation of false profiles, and although they do not always have criminal intentions, being cheated this ways is quite a deceiving experience.
A very useful method to rule out fake profiles is to wait at least one week after creating the profile to upload a photo or description. This is known as "The Scam Test."
It has been put to the test in Dating Direct and has given positive results, thanks to the security measures of the page that require confirmation via email of newly created profiles. This avoids members to be victims of the social scam called "Catfish", in which a deceiver uses one or more profiles with false identities.
Free membership features
This membership plan has no expiring date, and allows the following:
Creating a member profile
The subscriber can put information about geographic location, nationality, age, marital status, occupation, religion, etc.
Personal description
A self-description written by the user that may include some physical details and personal characteristics.
Lifestyle
Music and cinema preferences, pets, etc.
Favorite activities, hobbies, sports, etc.
Habits like smoking, drinking or preferred meals.
Ideal partner
Selecting one or several characteristics the member's ideal partner should have. This increases the searching algorithm precision.
Photos
Up to five member's pictures are allowed. It may take 48 hours to be verified and visible in the profile.
Introductory video
An optional one minute introductory video is allowed to each member.
Other features
Browse who is online.
Standard search.
Wink other members.
Dating Direct Mobile App
Currently there is no Android or iOS application available for download. However a mobile web version allows any member to access Dating Direct from the mobile browser.
This mobile version features an intuitive, friendly and easy-to-use interface, which keeps most of the important functions of the PC version, for instance the possibility of chatting with other members.
How much is the Premium subscription?
Instant chat with other users, highlight the member profile, participate in online events and social dynamics are the most outstanding features included in the paid version.
There are different plans that could mean noticeable savings. They are classified as follows: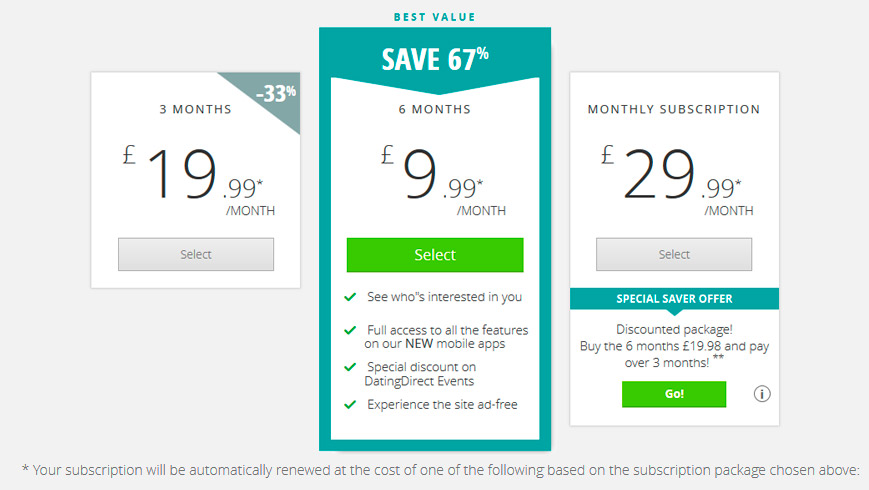 One month: 29.99£
Three months: 19.99£/month
Six months: 9.99£/month
Be sure to remember that subscription will be automatically renewed at the cost of the chosen pachage, so you must cancel it if you don't want the membership to continue.
Dating Direct UK Reviews
At first glance, Dating Direct stands out for its neat and friendly web interface which reflects the sociable and safe environment any dating service must have.
Although Dating Direct has pioneered the online dating services in the United Kingdom, the evolution of this popular site has been influenced by the competition, i.e.: sites like Tinder or eHarmony, which have aimed to a more visual development of their platforms.
However, Dating Direct does not settle on that. Current threats in the virtual world have made its developers to adopt high standards online security measures which, although they may not be standard compared to other applications, even could be considered too stiff, they really mark an important difference. This is the reason why Dating Direct members rely so much on this site.
Pros and cons
According to many subscribers these are the most remarkable advantages of this dating service:
The most popular site in the UK: this means more than five million members, which augments the odds of finding what anyone of them is looking for.
Fusion with Match.com: a valuable feature, since regardless which platform the member has subscribed to, he/she will have access to the same data base.
Stable relationship oriented: opposite to other dating service sites, most of its members are prone to look for committed relationships.
Friendly interface: very easy to use, especially when filling in the personal profile.
And some cons:
No mobile app: Even though the service has its mobile web version designed to provide most of the features, it is not as comfortable as accessing from a native app. Most users find a bit awkward using the mobile browser.
First month fee somewhat pricy: regardless any marketing strategy to encourage paying a longer period membership, the high price for a one-month subscription is seen as a disadvantage for people who are only interested in temporary use.
Not available everywhere: by now this service is only available in UK, Ireland, Netherlands, France, Norway, Sweden, Denmark, Belgium, Germany, Switzerland, Portugal, Spain and Italy.
Without a doubt, it is a proven and highly reliable service, proof of that are the millions of users who subscribe every year hoping to find, with the help of its advanced algorithms, that perfect partner that could change their lives.
We are in the presence of a stage of innovation in social relationships, which became evident since the popularization of the Internet around the world.
This is technology designed to getting people close, to connect them.
Try now Dating Direct for Free!
Dating Direct is not the property or responsibility in any way of Perfect-Match.co.uk