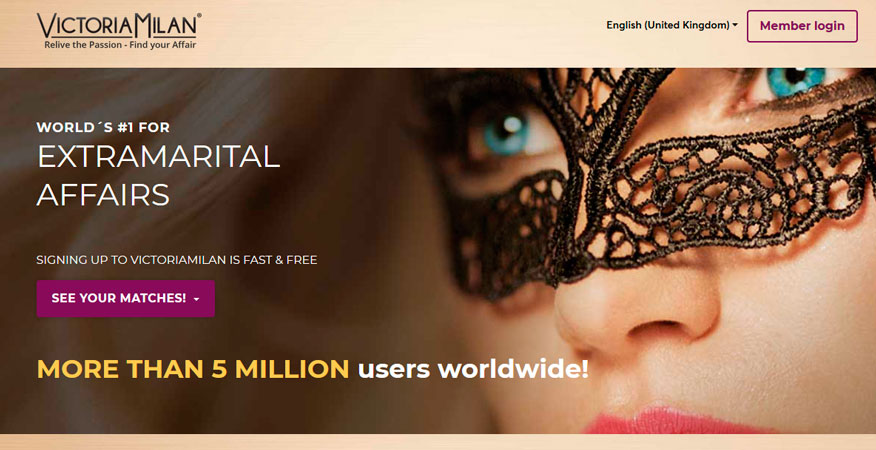 What is Victoriamilan?
Victoriamilan.co.uk is a dating website that is deliberated themed around providing married or partnered individuals with the opportunity to pursue an extramarital or cheating affair. It regards itself as the '#1 Site for Extramarital Affairs'. Its user base is mostly contained within Europe and Scandinavia, making it one of the premier dating destinations for those based in the UK.
Even if you're not currently in a relationship or married, you'll still be able to use the site as a single male or female, as long as you are looking for a partner. The service guarantees full and complete anonymity for its users, which is why it has gained particular appeal towards users actively pursuing an affair. It does so by providing blurred facial recognition tools amongst other anonymous features that help to conceal payments made and more. One of the key features is the availability of a 'panic' button, which upon clicking changes the interface of your screen to match a normal-looking website by changing you to another web-page.
There is also an accompanying app to the dating platform, but you'll also be able to access the site on mobile too. It's recommended that you stick with the web app if you're in a public location as there is no 'panic' button on the web app just yet.
How does Victoria Milan work?
Victoria Milan works like most regular sites, but differs in that it offers much more extensive security protocols to safeguard their user's identities. You'll be able to create a traditional profile with a personal photo that will disguise key areas of your face to avoid you from being distinguished. When you go onto the Victoriamilan.co.uk website for the first time, you'll be able to join and sign up at the bottom of the page.
Profiles will contain information about you, including physical information such as your height, weight, eye colour, and more, although your photos can be blurred to a degree you're happy with. You'll also be able to post more facts about yourself that other users can see and decide if they're interested in or turned onto. Information can also be concealed so as to keep your profile extra private. The site is heavily encrypted too and has had no history of being broken into, suggesting it is as secure as it promotes.
Once you sign up for an account and start to look for other members to potentially date or start an affair with, you'll need a premium account to start to make serious contact, particularly with the messaging service. You can read more about how to set up a premium account in a section below.
Signing up
After clicking 'Join Anonymously' on the local home page of Victoria Milan's website, you'll be invited to create your profile for the first time. The profile registration asks for information that'll help to form the basis of your search for other partners that you're interested in, based on answering what sort of physical or emotional characteristics you're into. You'll be able to select three of your top priorities when looking for a partner, as well as be able to declare what sort of relationship you're looking for. For example, if you're a married male looking for another woman to start an affair with, you'll be able to make this information known to potential partners on the site.
You will need to verify your email address before you're allowed to make an account, however, so make sure you have access to your email address as well. Once you've done so, you can continue to build your profile as well as your dating preferences further.
Sign Up at Victoria Milan Now!
Is Victoriamilan free?
Creating a Victoriamilan account is completely free. However, I'd describe the app experiences as a free user as very limited, and what I'd call as an extremely brief trial. It'll give you a feel for how the website interacts, how it functions, as well as what sort of potential partners you'll have access to near you on your site. You'll be able to browse through profiles and send 'winks' to users, but that is as far as it really goes as a free member.
On the other hand, there are extensive experiences for premium members, including messaging features, the ability to look at private photos of users, and more. Read below to find out a little bit about the premium features as well as the costs of subscription to Victoriamilan's premium services.
Subscription Services & Prices
Upgrading your Victoria Milan UK account is essential to making the most out of the dating platform itself, as it guarantees you the ability to actually establish and develop the relationships you want. The Premium account allows for messaging and gifting features to be enabled for users, as well as the ability to see private photos of other members who are interested in you and vice versa.
Here is the breakdown of the subscription services that Victoria Milan provides, which are divided into three select options. Note that these are rolling payments so if you'd like to cancel them you can do so. You'll still be able to use the full extent of the Premium membership period you've bought.
Subscription Period Total Cost Costs / month
3 Months £59.97 (£19.99 per month)
6 Months £89.94 (£14.99 per month)
12 Months £119.88 (£9.99 per month)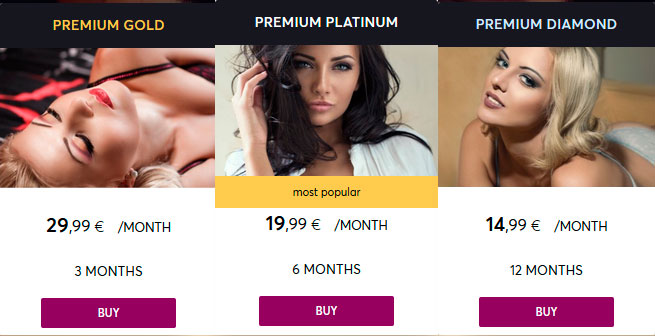 How to delete a Victoria milan account?
To delete your profile, you'll have to be logged in to your account on the main website. Once this is done, you'll be able to head to the 'My Settings' page, where you can control and manoeuvre your account details. At this point, you can scroll to the bottom and click on the 'Deactivate Profile' button. Follow the instructions from this point and you'll be able to erase your account entirely.
Victoria Milan vs Ashley Madison
As the older website and the first of its kind, Ashley Madison obviously stands out as a possible competitor website to Victoria Milan. You can read a comprehensive review about Ashley Madison if you like.
To me, the key difference between Ashley Madison is that it has a larger international community, which means that for users who might want to be looking for an extravagant affair, you might get a better selection of options for dating partners. On the other hand, Victoria Milan seems to have a very Europe-centric audience, which is probably preferable to those looking to date someone locally within the United Kingdom.
Ashley Madison has of course been exposed previously for their security concerns, although they have overgrown and overcome many of their security issues of the past, allowing for them to pick up many more new users since the scandal in 2015. On the other hand, Victoria Milan has not been recognised for any sort of security issues, and it continues to boast about its extensive security features which even extends to disguising bills paid towards the purchasing of their premium services.
Ultimately, both sites boast a huge member base across most countries and are well regarded for the 'niche' they provide, and they definitely help users address romantic and emotional desires that mainstream society doesn't seem so accepting of despite the abundance of extramarital affairs that occur.
Features
Panic Button
As described, the panic button allows for users to browse securely with an instant safety feature that redirects their web browser to a different, normal, unsuspecting website.
Victoria Milan Website & App
The Victoria Milan Website has a unique design that is highly elegant, and much more extravagant than most regular dating sites. General usage of the website can be done on the mobile site or on the mobile app too.
Premium Features
Messaging
Messaging is the crux of the service and one of the main reasons why users should pursue a premium option as it allows for the real development of relationships.
Gifting
You'll be able to receive and send gifts as a premium user.
Seeing who's viewed your profile
As a premium user, you can keep track of what other users have been visiting your profile, which will make it easier for you to decide who to approach when looking for a relationship.
Customer Reviews
Many customers find that Victoria Milan is one of the few dating outlets within the UK for those looking for a particular type of relationship, which revolves around the idea of 'cheating' and removing its social stigma, despite it being entirely prevalent around society. Victoria Milan allows for users seeking this sort of lifestyle to fully embrace it and enjoy the benefits of being anonymous at the same time.
I've also read reviews online from girls who are looking for Sugar Daddy's in particular, and it appears that Victoria Milan is an extremely well-regarded site when it comes to achieving such purposes.
perfect-match.co.uk is not the owner or responsible in any way of the reviewed sites