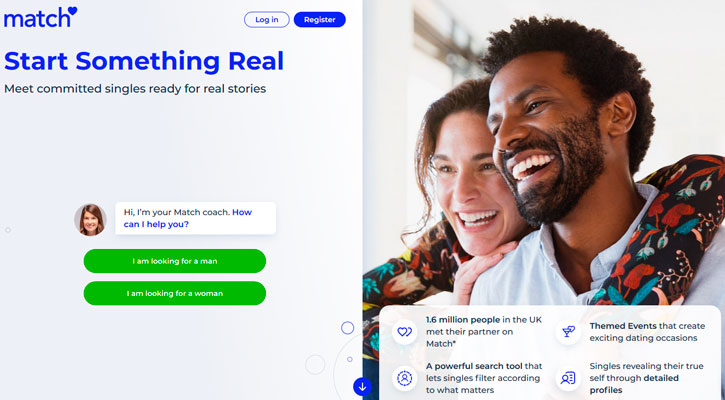 How does Match UK work
Match.com is a dating platform that has been open to users since the early 1990s. It was first known for being one of the first sites to open its doors to diversity, allowing people from different religions, sexual orientations, and more to look for partners on its platforms. Since its establishment, it has expanded its operation to service over 20 million members worldwide looking for a match. Most of its members are between the ages of 20-50, with an almost 50% female to male ratio in terms of member distribution. Match.com accommodates for its different members around the world by offering different language preferences and location-based services. In the UK, members can find other local matches that live nearby their local town or city.
As a dating site primarily, Match.com allows users to search for other potential matchups that are well suited to their dating preferences. As you begin to sign up for an account, you'll be able to select physical, emotional, and even financial characteristics and information of your ideal partner and the service will use your criteria to determine matches that would be a potential fit for you near you. You'll also be able to return the favour to other users who might be looking for someone with your similar characteristics by offering information about yourself. Although it works primarily as a dating website, you can download a web app on Android and iOS phones to continue looking for matches there too.
Signing up
When you load onto the website, you'll be asked to create a login with a dedicated username and password. Your username will be your own personal email address. After this is done, Match.com will start to ask a series of questions based, some that ask for your personal information and some that try to form your dating preferences. You'll be able to create a profile with a personalised image. All this information is how the website builds a dating profile for you that is based on people who fit your dating criteria and who are conversely looking for someone with your physical and emotional characteristics.
You don't have to verify your email address to create an account, nor do you have to use a profile picture if you don't want to, but it's recommended that you do if you want to improve your chances of finding a match.
Is Match.com free?
To test out match's service, I create my own account and began to use the app as a free member initially. Match.com can be used for free, but a wide extension of services are unavailable to free members, and only available to premium members exclusively. I would regard using a UK match.com as a free user as using a free match.com trial. You're still able to see people's profiles and actually interact with them through their messaging service, but you'll be limited with how many messages you can send at any one time before you eventually can no longer send any more free messages. If you're looking to see the full benefits of match.com's premium subscription service, you'll be able to find it just below.
Subscription Services & Prices
Match.com specialises in providing a subscription-based model which allows you to gain access to the full benefits of the website, enabling you to look for matches from a larger group of exclusive members, and opening you to further opportunities through providing discounts for local events and giving you more information regarding your potential matches. There are two main subscription packages, and they offer you the full set of features with a slight difference.
I opted for a monthly subscription package to test out the Premium Plan features. As I described, the free version of the site is almost like a free trial with limited features. A match.com subscription allows you to use the site to its full capacity, opening up more details about potential matches, expanding your pool of matches, and also significantly improving your chances of finding a match through the messaging feature that is put at your disposal when you go premium. For example, you can only see who 'likes' you if you are using a subscription package so it does make a big difference when you are looking for the ideal match.
A subscription comes in one of three rolling month-based packages, divided into a Standard Plan and a Premium Plan. You can opt for a monthly, three-month, or six-month package for both. These all scale downwards in terms of price, meaning that the six-month package has the best value for money for dedicated users. The main difference is that the Standard plan allows you to talk to 10 people per day, whereas the Premium plan allows you to do so on an unlimited basis. Below you'll find a breakdown of the prices for subscriptions:
How much is match.com?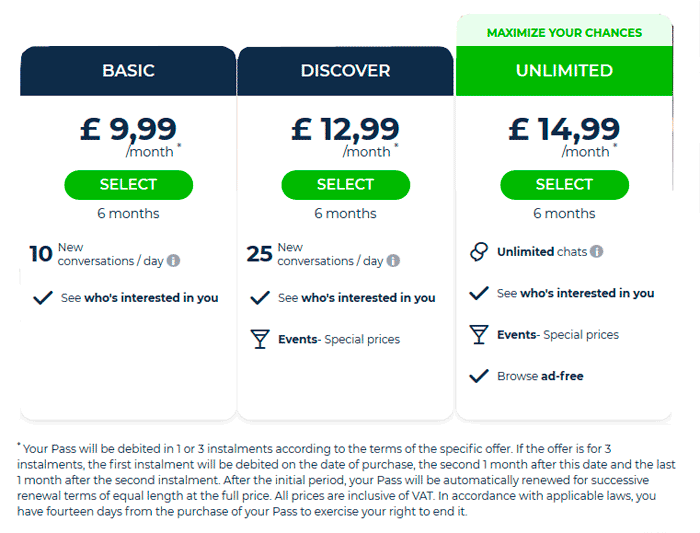 Standard Plan
Monthly £29.99 per month (£29.99)
3 Month £19.99 per month (£59.97)
6 Month £9.99 per month (£59.94)
Premium Plan
Monthly £34.99 per month (£34.99)
3 Month £24.99 per month (£74.97)
6 Month £14.99 per month (£84.94)
Design & Functionality
Alhough the signup process takes a bit more time than most other dating websites or web apps, I find that it actually asks for seriously useful information that helps inform the website of your dating preferences. It helps to creates a comprehensive profile for you. This also means that your potential matches have similarly well-developed profiles too. As a free user, you're able to view profiles and find useful information about such potential matches, but the premium features allow you to view even more information such
Features
Web App
The Web App acts as an extension of the main website, but it also has a separate price plan to it. It is much more expensive than the main app but you can continue to use this a free member initially. You can find and download it on Android or iOS Phones on the Google Play or Apple App stores.
Free Trial
Match.com allows users to use free accounts that have limited features on them. You can treat using a free account as a free trial, as you'll be able to get a feel for what the app is like and how it functions. As a fee-paying member, you'll get even more features and access which we'll go through below.
Premium Features
Match Guarantee
If you opt for a 6-month package and can't find a match during this period, Match.com will fully finance you with a free 6-months of app usage. This is to show that they're committed to getting their users to find matches as opposed to ensure its pay model is sustainable.
Boost
Boost is a feature that allows you to push to the top search results for an hour once every day to other members using the website. This gives you a significantly higher chance of finding a match.
Private/Invisible usage
You'll be able to browse in incognito mode if you'd like.
Seeing who 'Likes' you
You can only see who 'likes' you if you have a premium account.
How to delete a match.com account?
You can delete your account on the account settings page of the website. You can actually opt between two things: suspending your account or outright cancelling your account. Suspending your account allows you to come back at a later date and resuming your account as it is. Cancelling your account completely removes your account, preventing you from using the same account that you signed up with. Choose wisely with what you want to do.
Customer Reviews
From surveying customer features and using the app myself, I've got mostly positive things to say about UK.Match.com, but I've also got a few notes to point out for users who've never used the service before and want to know whether it's actually worth it. Personally, I feel like Match.com is a is much more comprehensive as a dating site than most dating apps or other dating sites. This is because of their comprehensive profile builder and the extra developed premium features that they use. I also enjoy the fact that I can browse the app both on my computer and my phone on a remote basis. However, I do feel that it's strange that the web app has higher subscription fees. It's probably recommended that you go for membership on the website itself. Furthermore, I would really recommend you try the free trial first before you go Premium as this will give you the opportunity to decide whether you want to put your money into the website.
This web is not the owner of responsible of the reviewed sites