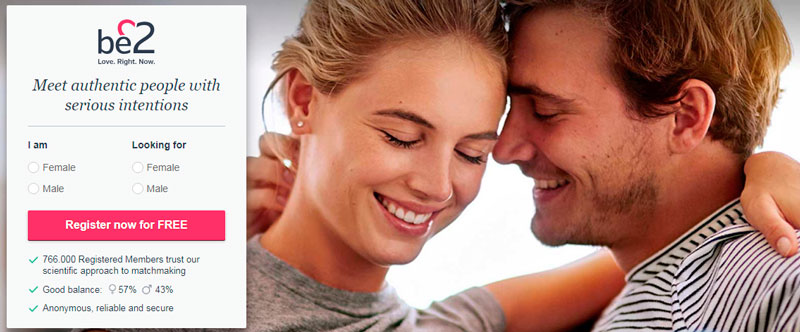 Be2.co.uk review
Today I'm going to review be2 uk relationship assessment. Starting to creating a profile, you can register a free account with no cost. The questionnaire is short, easy to complete & not too taxing to the gray matter!
Free Profile Register
The only information that I could find on their website regarding their profiling tool is as per below:
In order to find out who is compatible with you, you must know yourself first. be2 has assessed the results of personality and partnership research and developed 28 variables that influence the success of a relationship. In our personality test, we isolate the traits that are relevant in a relationship. In doing so, we combine various personality theories. We have collaborated with experts from the field of quantitative research in order to design a questionnaire that you can answer easily and efficiently.
As a rule, a personality test will assess each answer individually and then compile an overall picture. However, there are certain questions that we do not assess immediately and individually: in the analysis, be2 relates your answers to each other. We draw our conclusions from the way one answer correlates to another. This way, we can compile a very precise profile. When reading your personality profile, keep in mind that your results represent a comparison with all men and women.
Try the Compatibility Test Now for Free!
The only information I could find on their site about their personality profiling tool was as per below:
Our analysis of the questionnaire is based on personality and relationship research, as well as innovative data evaluation software.
well-founded – The development of be2 involved psychologists, sociologists, anthropologists, statisticians and computer linguists.
inclusive – be2 synthesizes various psychological and sociological testing methods. Among others, the "Five Factor/Big Five" theory, which says that a happy relationship is based on degrees of emotional openness, extroversion, agreeableness, conscientiousness, and openness towards new experiences.
tried and tested – be2's software has developed over the course of the years and has been tried and tested for 4 years on FriendScout24, Germany's biggest dating website.
Personality profile
What are your interests?
How do you make decisions?
Which surroundings suit you best?
How does your personality influence your work?
How does your personality influence interaction with others?
What areas involve risks for you?
Description of your ideal partner
Textual and graphical description of your ideal partner's personality.
Description of the influence of your personality on interpersonal relationships.
Analysis of your compatibility with others
General compatibility on a scale from 1-100.
Graphical presentation of your personality and that of your partner recommendation in 7 areas.
Written analysis of possible strengths and weaknesses in a relationship with each partner recommendation.
Pretty disappointing & not enough detail & solid authentic & credible background information really..
Its a basic personality summary as per my result below:
rationality versus emotionality: You often make decisions instinctively. Feelings play a greater part in your decision-making than rational deliberations.
tradition versus innovation: You strive for change and excitement more than most people. Nevertheless, you do occasionally value the comfort that routine brings.
introversion versus extroversion: You focus your energy on things and people surrounding you. You are sociable and like talking. Your thoughts often wander in several directions.
individuality versus adaptability: You only conform to others' expectations to a certain extent. It is important to you to stay true to yourself, but despite your individuality, dealing sensitively with others is also important to you.
distance versus attachment: Your first reaction to an emotional situation is often very intense, but you deal with stress in a balanced fashion. Occasionally, you may be overwhelmed by feelings.
observation versus feeling: You like drawing conjectures and looking for hidden crossover effects between information and facts. To restrict yourself only to hard facts is too boring for you.
structure versus integration: You need a clearly defined frame of reference to feel secure. You value clear structures highly. In times of change, you use these structures as guidelines.
The results of the assessment are accurate but not very detailed about the complexity of Moi! Good categories though but not near enough to ascertain a good match with someone. There is no information about how the matching process works from here so cannot comment on that unfortunately. I would rate this system as 3 out of 5 due to their lack of transparency & background info about the experts behind their assessment.
Be2 Free Functions
See pictures
Send unlimited messages
Read all your messages
See your visitors
Add contact to favourites
Premium Functions
Personal Profile
Personality Test
Upload pictures
Be2 Premium Prices 2019
Be2 prices updated in 2019: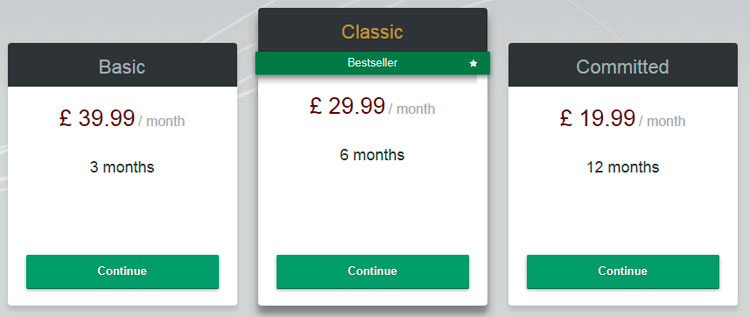 Your Premium Membership will be automatically extended by Be2. The cancellation period is communicated when buying a product, and may vary accordingly.
39,99£/month for 3 months
29,99£/month for 6 months
19,99£/month for 12 months
Beware of automatic renewal at the end of your membership period. If you do not wish to renew you must cancel your membership within the term. Many complaints about be2 accusing it of fraud or scam are due to an automatic renewal not expected by the user.
Cancellation
As they stat in their FAQ, for the premium service cancellation you'll have to send a fax to end your membership. Contact Be2's customer support by email at customerservice @ be2.co.uk to get the details. Once you have cancelled your Premium Membership you can deactivate your profile in the settings section of your profile. If you wish to delete your personal data, you can do it by sending an email to: privacy @ be2.co.uk. Then your data will permanently be removed from the be2 database.
App
Be2 offers its users a mobile app for android and ios portable devices and smartphones.
Now would like to leave you with a romantic Be2 ad. Enjoy!